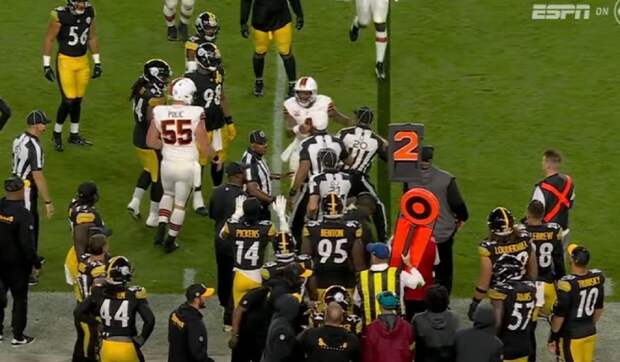 Browns QB Deshaun Watson will probably receive a call from the league office on Tuesday.
On Monday night, Watson got heated with Steelers' Kwon Alexander after running towards the sideline on a scramble play.
Deshaun Watson got called for a personal foul after his fingers were caught in Kwon Alexander's face mask. pic.twitter.com/IBKVLTTils

— Tanner Phifer (@TannerPhiferNFL)
While going back and forth with Alexander, Watson shoved a ref to the side to continue arguing.
Usually, making contact with an official is an automatic ejection in the NFL, but for whatever reason, Watson was not ejected on the play and was allowed to stay in the game.
Deshaun Watson made contact with official. Should be ejected.

— ProFootballTalk (@ProFootballTalk)
Fans were furious at the refs for not ejecting Watson for making contact with a ref.
How is Deshaun Watson not ejected for contact with a ref?

— Chris Bradford (@PghBradford)
Can Deshaun Watson just shove refs now??

Hoping somebody else caught that

— Homegrown Bets (@HomegrownBets)
But Deshaun Watson can shove a ref and it's fine lmao

— Ashley Danielle (@ashdanielle92)
Deshaun Watson making contact with anyone should be illegal, and ejected from the free world…. I'm just saying https://t.co/cOKdsnwNjh

— DJAKOB ERLE (@Illmatic_earl)
The NFL will surely look into making contact with the ref, and he can probably expect a hefty fine on Tuesday.
The post Deshaun Watson Shoves Ref, Somehow Doesn't Get Ejected, And Fans Are Furious appeared first on BroBible.