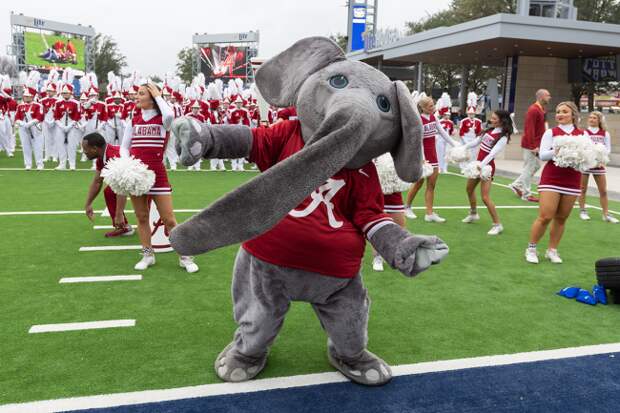 Getty Image
College sports fans are the absolute best. Take Phil for example.
Earlier this week, one of Phil's family friends shared an incredible painting that he had been working on. The concept for the artwork, which took 18 months to complete, is very simple.
Phil tried to paint as many college mascots as he could on one five-foot by three-foot (ish) canvas and he did a remarkable job.
To start, Phil painted the entire canvas black. From there, he proceeded to paint at least 300 different college mascots in every single nook, cranny and crevasse that he possibly could.
Just when you think that your school isn't represented, look a little bit closer. Spend a little bit more time looking for the mascot that you think is missing and (assuming that you didn't go to some small, unknown Division-III school in the middle of Idaho), boom— there it is!
It's like a Where's Waldo book, except for it's way cooler and instead of random cartoons, it's college mascots. Phil managed to fit all of the big, Power Five Conference mascots, as well as all of the weird, obscure mascots that don't often get as much air time.
For example, some of the more unique mascots that made the painting are:
Western Kentucky's Big Red
Florida A&M's Rattlesnake
Delta State's Fighting Okra
Saint Louis's Biliken
Campbell's Camel
Youngstown State's Penguin
What's cool about the painting is that Phil didn't give hierarchy to the Power Five programs. He made sure that the coolest, most unique mascots had their moment to shine and gave many lesser-known mascots a bigger space on the canvas.
Take a look at Phil's incredibly intricate, 18-month painting:
A very talented family friend of mine set out to paint as many college mascots as he could on one canvas. The project took 18 months and is finally complete. You rock Phil!! pic.twitter.com/ws6svNEL3I

— Alison Renner (@alison_renner)
Did you find your school?
The post Incredible Canvas Painting Of 400+ College Mascots Goes Viral After Taking 18 Months To Complete appeared first on BroBible.