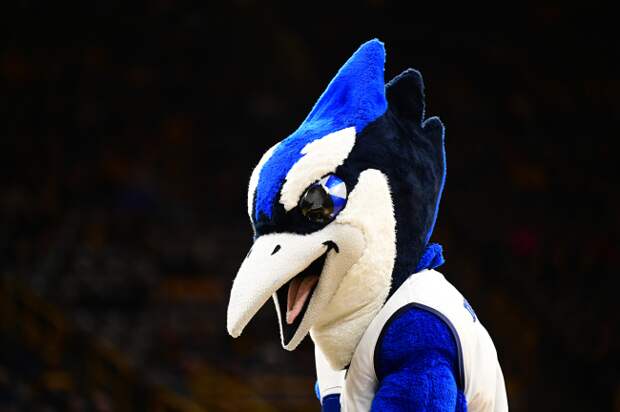 Getty Image
University of Nebraska Omaha mascot Durango will not stop at anything to win.
Even if that means running through a child at the College World Series.
The kid got absolutely smoked as the massive mascot came flying past.
The College World Series is one of the most fun events in college sports. In addition to being an experience for participating fanbases, it is also a big deal for local families whose kids are out of school for the summer, and it is a great opportunity to showcase everything that Omaha has to offer.
Including the University of Nebraska Omaha and its mascot Durango.
Durango, who turned 50 last year, is a bull. More specifically, he is a Maverick— an animal, usually a form of cattle, that does not carry a brand.
Durango the Maverick is red and absolutely jacked. On Monday night he put his strength and speed to the test at the College World Series.
During the late innings of a game between Ole Miss and Arkansas, the local mascots gathered in the outfield for a race against a group of elementary to middle school-aged children. It started at about centerfield on the warning track and went to the foul pole.
Well, Durango was dominant. However, it came at a price.
Coming from the back, Durango put on the afterburners and took off up the middle of the group of kids. In the process, one of the kids stepped into his path.
That kid did not fare well.
He got absolutely smoked as Durango ran past him, clipped his shoulder at full-speed, and sent the kid flying.
Fortunately, the child was okay and finished the race after the staff checked up on him. But he got rocked as Durango went on to victory.
A big shoutout is deserved for the Creighton Blue Jay here too. He was right behind the kid as he flew into the air and onto the warning track and proceeded to hurdle him like an Olympian coming down the final stretch. It was a tremendously athletic move that deserves proper recognition.
What a rush!
The post University Of Nebraska Omaha Mascot Absolutely Clobbers Child In Heated College World Series Race appeared first on BroBible.